Translucent Stone Veneer can be applied over nearly any solid substrate including
Concrete
Ceramic
Wood
Metal
Plywood
Fibreglass
Tile dry wall
MDF
Masonite
Door skins and cabinetry
Glass
Acrylic
polycarbonate
Richter Stone veneer can be worked with any commercially available tools (DIY tools) used for sawing, cutting, drilling, milling, bending and pressing. For industrial processing it is recommended using diamond blade tools due to the heavy wear on blades.

Standard size sheets are 1220 x 610 but larger size sheets are available on special order.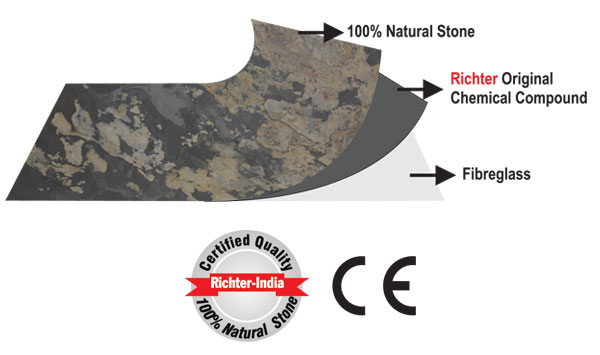 Variations
Since Stone -veneer is a natural product Designed by Nature, colour and texture variances are not defects within the material but are inherent to it and part of the natural beauty of quarried materials. Since exact colours / textures and appearance cannot be guaranteed from one batch of quarried stone to the next it is recommended that orders take into account future maintenance or refit possibilities. For furniture industries and those companies that require a certain homogeneity in structure and colour of the natural stone surface, Richter will try to ensure the highest similarity.